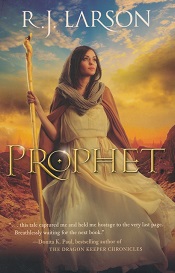 Prophet by R.J. Larson
Back Cover: Close your eyes, Ela of Parne. Close your eyes and you will see.
Ela Roeh of Parne doesn't understand why her beloved Creator, the Infinite, wants her to become His prophet. She's undignified, bad tempered, and only seventeen–not to mention that no prophet of Parne has ever been a girl. Worst of all, as the elders often warn, if she agrees to become the Infinite's prophet, Ela knows she will die young.
Istgard has turned their back on me. See the evil they do.
Yet after experiencing His presence, she can't imagine living without Him. Determined to follow the Infinite's voice, Ela accepts the sacred vinewood branch and is sent to bring the Infinite's word to a nation torn apart by war. Here she meets Kien, a young Traceland ambassador determined to bring his own justice for his oppressed people. As they form an unlikely partnership, Ela must surrender to her destiny… and determine how to balance the leading of her heart with the leading of the Infinite.
Will you accept the branch and speak my will? Will you be my prophet?
Editor's Review: I really enjoyed Prophet.  I think the author's idea for the story makes for an excellent Christian allegory. It kept me interested, even if at times it felt predictable.
This is the author's first work of fantasy fiction.  It is an excellent start and is well written, though the characters and world could have been developed more deeply.
For fans of Christian fantasy, I would definitely recommend Prophet.  Especially for teens and YA. I look forward to trying the next book in the series.