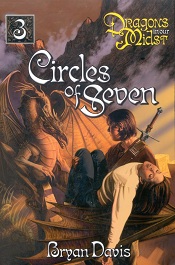 Circles of Seven by Bryan Davis
Back Cover: Raising Dragons plunged two teenagers, Billy Bannister and Bonnie Silver, into mind-boggling mysteries, life or death pursuits, and deadly sword-to-sword battles. In the second book, The Candlestone, a mysterious diary leads Billy into mortal combat with a powerful dragon slayer. Separated from his friends and finding his dragon traits useless against this enemy, he had to rely on new weapons, a sword and shield he cannot even see.
Now in Circles of Seven, using their dragon traits and the wisdom they gained through their earlier adventures, Billy and Bonnie explore a multidimensional domain of evil. In this realm, they navigate seven perilous worlds, each one manifested in a circular plane of existence that leads them deeper into the domain of a powerful enemy.
The seventh circle holds group of prisoners, captives of the evil mistress of the circles, and Billy has to find a way to set them free and give them new life. When tragedy strikes along the way; Billy has to face the most difficult decision of his life, whether to forsake Bonnie to rescue the prisoners or to find a way to save her, his best friend in the world.
Filled with action, danger and suspense, Circles of Seven is sure to keep readers in their seats, following Billy and Bonnie to the exciting conclusion.