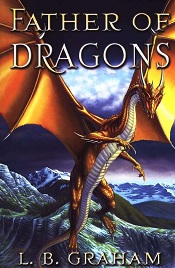 Father of Dragons by L. B. Graham
Back Cover: Malek has one final score to settle before he claims victory. Meanwhile, the Novaana embark on a mission to find the legendary Father of Dragons.
"You're about to enter the gyre of the Father of Dragons. You're about to set foot where no man has gone before, and I suggest that you not do so lightly. Sulmandir, if he is alive, could kill all of us in an instant. Where we are going, even I have not gone before. Keep quiet, and keep close."
Editor's Review: Another great book in the Binding of the Blade series.  Fans will be glad that L.B. Graham keeps up the pace of action.  Unlike many multi-book series, he does not slow the middle and ending down just to publish more books.  Each book is needed to accomplish the scope of this epic tale, and Father of Dragons is no exception.
If you enjoyed the first three books, you will love this one as well.  And with a cliffhanger ending, it will make you want to read the final book right away.