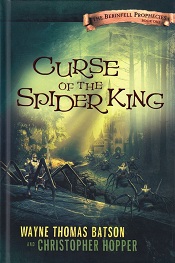 The Curse of the Spider King by Wayne Thomas Batson and Christopher Hopper
Back Cover: Will anyone escape the curse of the Spider King? The Spider King's minions are crossing from Allyra to Earth to hunt for seven unsuspecting thirteen-year-olds, who are royalty from a foreign world. Stopped once by an ancient curse, the dark forces are determined to finish the job.  The Seven's only hope for survival is a remnant of exiled Elves intent on restoring their kingdom-but can they be trusted?
Navigating the tangled web of the Spider King, the teens must make a perilous choice: Go to Allyra and face an uncertain destiny: or remain on Earth and risk the lives of the ones they love.