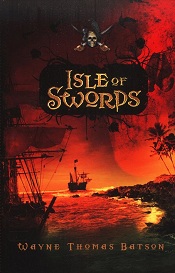 Isle of Swords by Wayne Thomas Batson
Back Cover: Captain Declan Ross is a pirate who wants out. He is desperately searching for a treasure that will free him and his daughter from the piracy business forever. Meanwhile, his crew is starving, and his ship is falling apart in shark-infested waters. Desperate for supplies they sail into the territory of …
Pirate Bartholomew Thorne, the black-hearted rogue who seeks to destroy anyone standing in the way of his finding the legendary treasure of Constantine.
A sixteen-year-old awakens on an island, alone and brutally injured, with no memory of who he is. The rare diamond he clutches will bring him between the pirates and their treasure, but will it also be the key to his own identity?
Wayne Thomas Batson weaves a spell-binding adventure filled with high-seas drama where battles rage, voices whisper from the tomb, a long-dormant volcano awakens, and a sea creature slithers in the deep as pirates race for the hidden treasure.