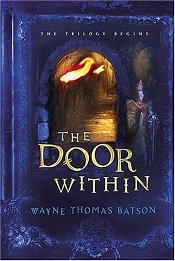 The Door Within by Wayne Thomas Batson
Back Cover: Three ancient scrolls beckon Aidan Thomas to enter another world: a realm of knights, warriors, kings, unusual creatures, and mysterious glimpses who can travel between worlds.
Soon Aidan is training to become the twelfth knight of an elite unit who will join Alleble in its long fight against the evil Paragory. With the fate of two worlds hanging in the balance, will Aidan be willing to risk everything and trust the one true king?